[REFURBISHED] Dynavin N7-GM2007 PRO Radio Navigation System for Chevrolet and GMC SUVS/TRUCKS 2007-2013
---
Sold out
The all-new Dynavin 8 version is currently in the final stages of development (release date TBD). The D8 version will not look like the previous models and will have more of an aftermarket "floating screen" look. Updates will be provided here including a link to preorder once available.
FITS ALL AUDIO SYSTEMS FOR THE FOLLOWING VEHICLES:
CHEVROLET: SILVERADO 2007-2013, SILVERADO HD 2014, TAHOE 2007-2013, SUBURBAN 2007-2013, TRAVERSE 2008-2012, IMPALA 2008-2010, EQUINOX 2008-2009, MONTE CARLO 2006-2008, EXPRESS VAN 2010-2012, AVALANCHE 2007-2013
GMC: ACADIA 2007-2012, SAVANA 2010-2012, SIERRA 2007-2013, YUKON & YUKON XL 2007-2013
BUICK: ENCLAVE 2008-2012, LUCERNE 2008-2011
HUMMER: H2 2008-2010
SATURN: OUTLOOK 2007-2010, VUE 2008-2010
FEATURES:
Plug and Play!
Premium 7"/16:9 LCD capacitive touchscreen display (1024 x 600 resolution)
Wired Apple CarPlay and wired Android Auto 
CANBUS solution integration (for functionality of steering wheel controls)
Integrates with factory backup camera with adapter (sold separately)
Integrates with factory rear entertainment system with adapter (sold separately)
Integrates with factory SiriusXM satellite radio or add satellite radio functionality with the SiriusXM with SXV300 Tuner (plug-and-play) sold separately (Use included "Audio Filter" box.)
Integrates with factory USB port
FM RDS TMC tuner with DSP noise masking and 30 preset stations
Integrated Sound DSP processor with EQ, time correction and 4V pre-out
AV input/output
CD/DVD disc player 
Bluetooth (external microphone included) for audio streaming and hands-free voice calling via any smartphone (Android, Apple, etc.)
Multimedia player by USB connectivity and SD card reader
Reverse/backup and/or front camera ready; compatible with most universal backup cameras (see backup cameras sold separately)
Includes iGO Primo on-board GPS navigation software
Includes 90-day warranty through Dynavin North America - Fresno, CA
Please note: 

2012-2014 models (compatible applications listed above) WITH Factory HDD Navigation

will require the 44-pin harness to interface with the 44-pin factory plug. If this is your vehicle application, please select the option in the "Vehicle Application" dropdown menu above.
Make installation even easier with the Dash Trim Removal Kit!
Apple CarPlay and Android Auto Compatible!
This is what separates the N7 Pro from the previous N7. The Pro is Apple CarPlay and Android Auto compatible right out of the box! Simply plug in your Apple or Android Phone via USB (with the appropriate app downloaded on your phone) and you're ready to drive safely! For a list of compatible Apple CarPlay apps, visit: https://www.apple.com/ios/carplay/. For Android Auto apps, visit: https://www.android.com/auto/. 
Steering Wheel Control Integration
The Dynavin system communicates perfectly with the multifunction steering wheel of your vehicle. With the upgrade to Dynavin you can control volume, telephone, track search (forward / backward) and other functions as usual. If a smartphone is connected to the system, you can even activate your voice control such as "Siri" or "Google Assistant" via the steering wheel.
Integrated Bluetooth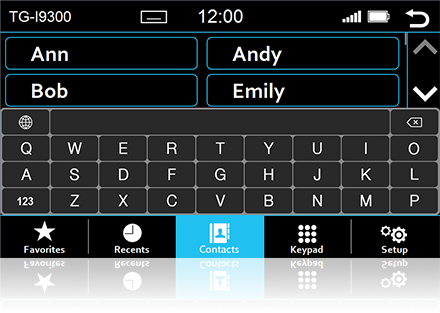 The integrated Bluetooth module enables the wireless connection of a cell phone for hands-free communication. A very intuitive user interface makes it extremely easy to use and you can use the on-screen keyboard to search for contacts. Bluetooth also enables audio streaming from the phone.
Customize the Start Screen (Boot Logo)
With our own DynOS operating system, you have the option of changing the picture on the start screen and the logos of the stored radio stations.
DSP Sound Integration
The Dynavin Pro offers extensive sound setting options to get the most out of your vehicle sound system and to adapt the sound to your taste and preferences. The built-in parametric 9-band EQ allows separate settings for the front and rear channels with professional-level attention to detail.
Source Level Setting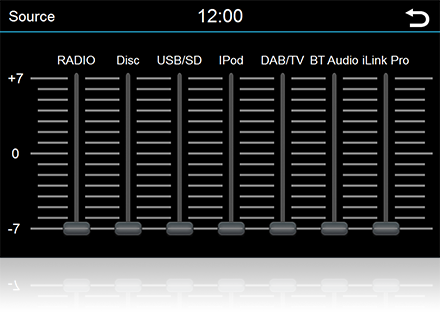 In the source menu you can adjust the different volume levels for the various audio sources to your preference.
Fader and Balance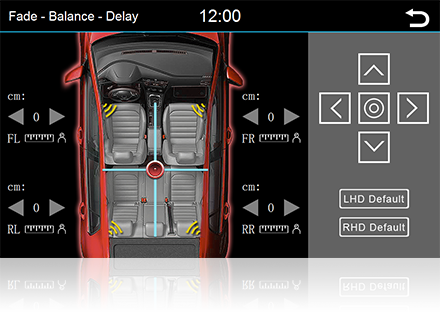 Simply drag the crosshairs on the touchscreen to the desired position on the illustration of the vehicle interior to set the fader balance and time correction.
iGo Primo GPS Navigation- included (North America maps)
Dynavin N7 features a built-in navigation system with simple destination input, turn-by-turn voice prompts, and selectable route guidance - everything you need to reach your destination quickly and efficiently. Pre-loaded with rich points of interest, its database includes national parks, restaurants, petrol stations, and much more. Furthermore, iGO Primo offers 30 days FREE updating on the maps after the first use. Visit www.naviextras.com to update.
SiriusXM Satellite Radio Compatible/Ready
Listen to your SiriusXM subscription anytime, anywhere. The Dynavin N7-GM2007 PRO integrates with your vehicle's factory SiriusXM satellite radio! Or you can add SiriusXM functionality with the SiriusXM SXV300 Tuner (sold separately). Make sure to plug in the included "audio filter" box when using this tuner.
Included Parts:

Specifications:
---
Share this Product
---
More from this collection